Happy Halloween folks!
I'll be back later..
Right now I have to put this costume on Sullivan and get him off to school for his party:
But not before I have to do this with Ben:
Usually I have to wake up Jackson and am meet with an unwillingness to go on:
But,...guess who surprised us and is working from home today:
He'll be taking Captain America to his Halloween party and will be a part of the classroom trick or treating.
Jackson will be able to remain sleeping in his bed and not have to be curled up on the stairs as is his usual course of action: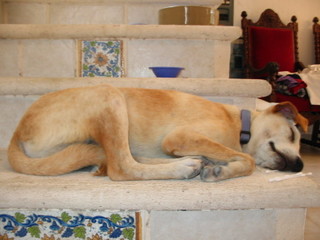 So that he'll be all rested for his school's Halloween party and street parade later today!
Welcome To Crustybeef~
HAPPY HALLOWEEN!!
Don't forget to say Please when you ask for your treats and tricks cause you just may be met with the Halloween Haunting:

*Thanks
Soul
for the inspirations from your past picture posts!! This is dedicated to her today!